Want to be a volunteer?
At the Chilly Open we have the privilege of having devoted people that help with all of the work that needs to be done in producing such a fun and meaningful winter event. During the event itself there are approximately 300 people working 1000 hours to accomplish our goals. A third of that work is donated by one of our beneficiaries,
Children's Hunger Alliance
. Another third is from our very own
Westerville Sunrise Rotary
group and all of our family and friends. Without the incredibly positive energy and attitude of all of these folks we could not have this event run as smoothly as it does. Thank you to everyone who helps us contribute to children's charities in central Ohio!
Click on the Sign Up button below to select the time slots that best fit your schedule to volunteer.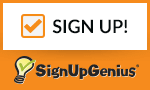 • Free Parking for volunteers
• The event area is quite a distance from the main entrance - please plan accordingly so that you can be in your volunteer area 15 minutes before your shift.
• Children may volunteer with a parent if they are 12 and older and registered on SignUpGenius
• Volunteers have free admission to visit the Columbus Zoo, before or after scheduled shift.
• Volunteer check-in is located near the main entrance.
• This is an outdoor event; please dress accordingly.
Questions? Contact
chillyvolunteer@gmail.com